If you are looking for a DIY idea for wedding flavors, here is my suggestion for handmade bookmarks made with copper wire.
Materials:
You are going to need 1,2 mm wire, a set of pliers, a hammer and an anvil (or ay other surface you can use the hammer on).
First you are going to cut the desirable length of wire (it depends on how long you want the bookmarks to be).
Next step is to give the 'snake' shape using a round object or just your fingers and then you can hammer the wire to make it more unique.
After you have finished with the main part of your bookmarks, you can add a hanging ornament.
If you want to create that too, you can use wire again which can be shaped using your fingers or pliers and attach it to the main part with a small piece of wire which you are going to use as a link.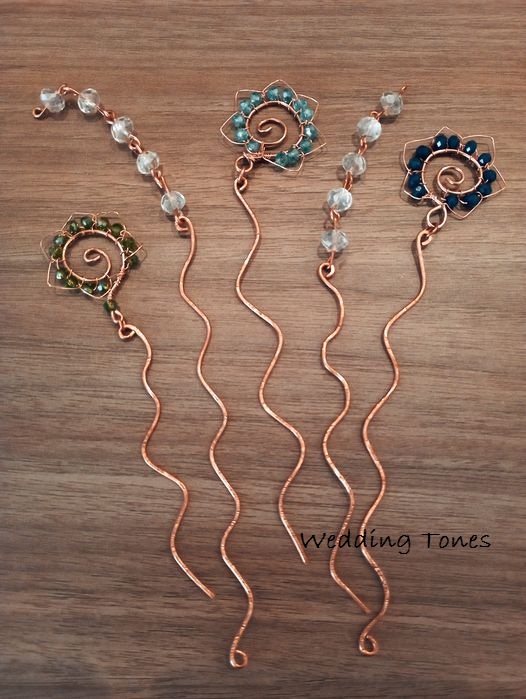 In the photo above, I have used handmade ornaments with wire and crystal beads.
You can only make swirls using wire or you can give it another shape like the treble clef.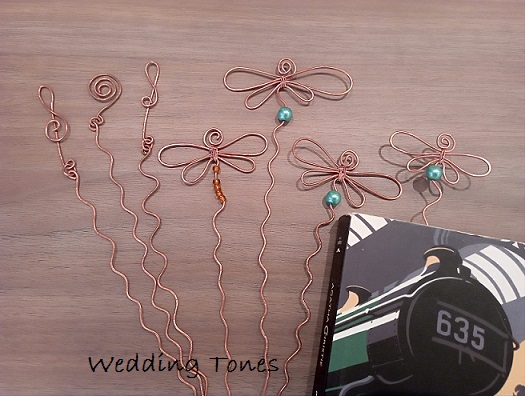 In case you prefer the bookmark to be one single piece, look at the dragonflies above.
For this design start creating the top part of the dragonfly and then go on with the part which is going to be inside the book. If you want to insert a bead as in the photo, remember to do that before you bend the wire.
This type of bookmarks could also have another kind of use, as they can also serve as a flowerpot decoration.